Monday's April 19 thru May 17 2021 Class time - 9:00 till 11:00 am Central Time
A Virtual class offered on Zoom
Class Title: Learn to Relax and Watercolor Paint
Class Instructor: Kathleen McElwaine
Duration: 5 Sessions 2 hours each
Cost $250.00 Paid in full at the time of enrollment.
COURSE OBJECTIVES:
To explore a limited palette of primary & secondary colors, in addition to Burnt Sienna, dark blue or black.
To practice individual brush strokes and brush manipulation for watercolor techniques.
To explore ways of recovering after mistakes are made using too much water or too little water.
To practice brush stroke using patterns to simplify image choice.
Avoid employing a critical eye until the painting is complete.
I have set a place just for you: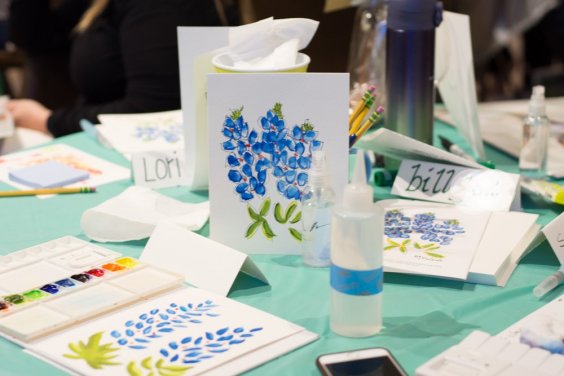 Kathleens zoom class is even better than classroom. When she demonstrates, you feel as if she is demonstrating just for you!
COURSE OUTLINE
Week One:Learning your materials and Brush strokes:
First Painting



Introduction to palette, paper, and brush. Learn colors in palette by making a color chart of the 10 basics. Learn to paint petal brush strokes while painting garden scenes. Demonstrate pattern transfer and painting of pattern included in supplies. In Class FL100 Yellow Flowers in Vase. Patterns for practice.

Week Two:
Introduce petal plus pull brush stroke to fill a larger space while painting grape leaves. Demonstrate using pattern BD009 Rooster. Patterns for practice
Week Three:
Introduce wash brush stroke and layering color. Demonstrate using one of the dog patterns. Patterns for practice.

Week Four:
Continue layering painting another dog. Foundation layer, Color Layer and sky Detail Layer. Reinforce drying time and details

Week Five:
Introduce painting from photographs using all of the brush strokes and layering. Demonstrate a landscape. Invite students to participate in studio workshops.

The following Supplies are included in the class price.
BRUSHES: Pentel Water Brush - Medium
PALETTE: Plastic sectional tray with paint
PAINTS: !0 Daniel Smith Colors, Primary, Secondary, plus
PAPER: 30 sheets of 100% cotton, 6 x 8 inch watercolor paper
HANDOUT: Inspirational images plus patterns needed for each week.

You will need but NOT PROVIDED

TAPE: MUST Have Scotch Tape for transferring patterns
SUGGESTED SUPPLIES


Watercolor Paper: Canson XL 9x12 pad of Student Watercolor paper

Brush: Pentel Water Brush - Small
CONTAINER: Drip bottle
ERASER: White Polymer
PENCIL: #2 regular pencils and a way to sharpen.
Paper Towels: Quality is preferred, less quality leaves particulates on your brush.
Spiral for Note taking
Consider If you want to keep a portfolio with patterns and practice strokes.
| | |
| --- | --- |
| Skill Level: | Beginner |
| Skill Details: | This class is designed to introduce a beginner to watercolor painting. No drawing or painting skills, are required. |
| Materials Included: | Paint to be determined Pentel Water brush, 30 sheets of 100% cotton paper, Class handouts, 5 patterns. |
| Requirements: | This class is required before the Studio Watercolor Class with Kathleen |
| Instructor: | Kathleen McElwaine |